Kim, In-Ho
Chairman & CEO, Korea International Trade Association
On February 26, 2015, Mr. Kim, In-Ho took the office of Chairman & CEO of the Korea International Trade Association(KITA), a major economic organization which provides trade advocacy for its 70,000 member companies with the objective of advancing the Korean economy through global trade. His new post as Chairman of KITA marks Mr. Kim's return to public service after more than 18 years in the private sector.

Previously, Mr. Kim was heavily involved in formulating strategies for further advancing Korea's economic structure by serving in two public-private joint committees as a private sector representative. From November 2010, he completed a three-year term as Co-Chairman of the Consumer Policy Committee, and is currently serving as Co-Chairman of the 2nd National Mid/Long-Term Strategy Committee since October 2014.
From 1997 to 2007, Mr. Kim held various positions at diverse organizations including President of the National Strategy Institute, Chairman of WISE InfoNet, President of the Korea Small Business Institute, and Chairman of the Market Economy Research Institute.
For 30 years from 1967 to 1997, he played key roles in the Korean government's economic policy establishment and coordination. He began his civil service career at the Economic Planning Board, moving through the ranks as Director General of the Price Policy Bureau, Director General of the Economic Planning Bureau, Assistant Minister for Overall Planning and Coordination, and Assistant Minister for International Policy Coordination.
After leaving the Board in 1992, he served as Vice Minister for the Ministry of Environment, President of the Consumer Protection Board, and Administrator of the Korean National Railroad. In recognition of his extensive career and achievements in civil service, he was appointed to ministerial-level positions successively as Chairman of the Fair Trade Commission in 1996, and Senior Secretary to the President for Economic Affairs in 1997.
Born in 1942, Mr. Kim earned an LLB degree from the College of Law at Seoul National University in 1966. During his years in the government, he received a Master's degree in Public Administration at the Maxwell Graduate School of Syracuse University in New York.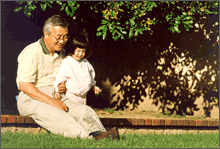 Mr. Kim is an ardent fan of classical music and has also had a unique opportunity to "debut" on the podium of the KBS Symphony Orchestra as an amateur guest conductor. He has published several full-length books including Why Break Off From The Right Path?(Market Economy Research Institute, 2010), Market Principles and Management of the Korean Economy(Korea Small Business Institute, 2007), The Return to the Market(National Strategy Institute, 1999), and An Economy Flourishing Through Competition(Fair Trade Commission, 1997).
Mr. Kim is married to Mrs. Jin-Ja Lee, and they have two children and three grandchildren.